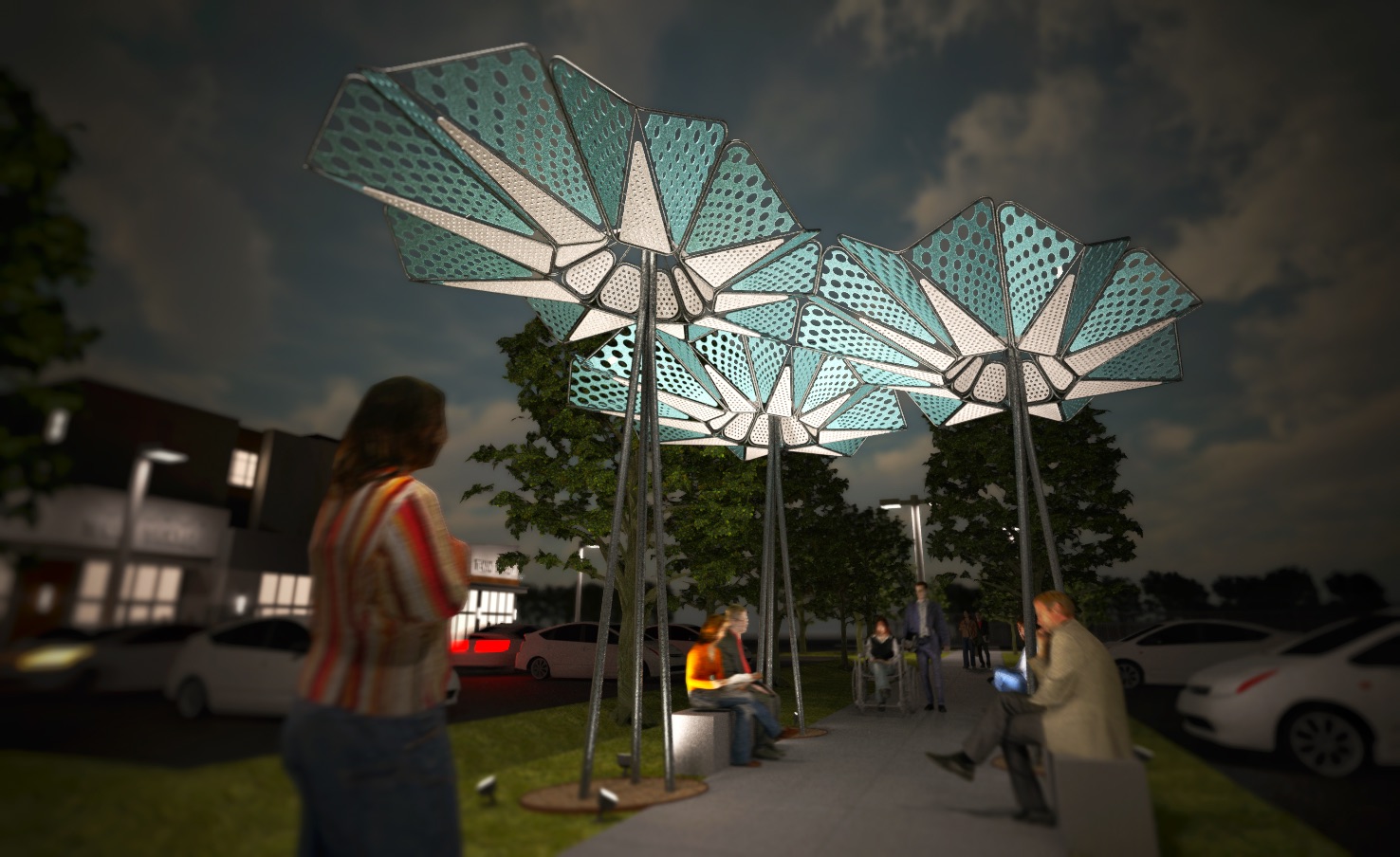 ANEMONE CANOPY
The Anemone Canopy, creates an immersive pedestrian experience that transforms the everyday into something unexpected, inspiring and contemplative. Anemone creates a restful place to engage in conversation with neighbors, or a moment of pause to enjoy the animated play of light and shadow created by the artwork's intricate geometric structure. It is inspired in part by the California native Anemone plant. Known as the "windflower" or "daughter of the wind" (from the Greek word anemos - the wind), the plant's long stems suspend delicate translucent petals of vibrant color. Another inspiration for the canopy were gothic fan vaults which give visitors the impression of walking through a light-filtering forest canopy. Anemone's perforated shade panels are made of Corian, while the framework is made of custom bent steel tube.
Anemone is a permanent public artwork installed in Albany, California in 2017. The proposal passed the Albany Arts Commission Review, a Planning and Zoning review, and was ultimately approved by the Albany City Council.
Location: Albany, California; mid-block near the corner of San Pablo Ave and Monroe St.
Date: 2017
Design: Jason Kelly Johnson & Nataly Gattegno
Project Team: Jeff Maeshiro, Emily Saunders, Joel Frank, Ji Ahn, Ripon DeLeon, Marianna Munguia-Chang, Carlos Sabogal
Fabrication Partners: MACHINIC Digital Fabrication and Consulting, San Francisco, with NorCal Metal Fabricators, Champion Powder Coating, Moore Galvanizing
Commissioned by: City of Albany Public Art Program (link)
Developer: Oppidan; Consulting Architect: Lowney Architecture
Consulting Landscape Architect: TS Studio
Consulting Engineer: Ben Corotis, ADBC Architecture, Oakland

Expanded Technical Description
There is a long and fascinating history of using tiling and tessellation patterns for surface decoration in architecture. Over the years we have studied and visited many extraordinary examples including the Alhambra palace in Granada, Spain or various mosques and urban spaces in Cairo, Egypt. The more recent work of M.C. Escher and Sir Roger Penrose has also provided insight into various tessellation and congruence transformation possibilities using parametric translations, rotations, reflections and subdivisions.
For the Anemone Canopy we were interested in exploring tessellation patterns beyond their decorative effects. We sought to develop a site-specific tessellation code as a means to both organize the master geometries of our site plan and to create rich and unexpected spatial transformations using three-dimensional surfaces. The constraints of the existing pedestrian circulation governed the scale of the base triangular site mesh and canopy column location. As the structure moves vertically more transformation and subdivisions are introduced into the mesh. Centers are inserted into the triangular mesh faces to create irregular tri and quad mesh planes. The result is a folded three-dimensional spatial tiling network held in suspension overhead. While each canopy umbrella tile is repeatable, the spatial, material and shadow effects of the panels are highly variable and differentiated.

Copyright © 2017, Future Cities Lab. All rights reserved.