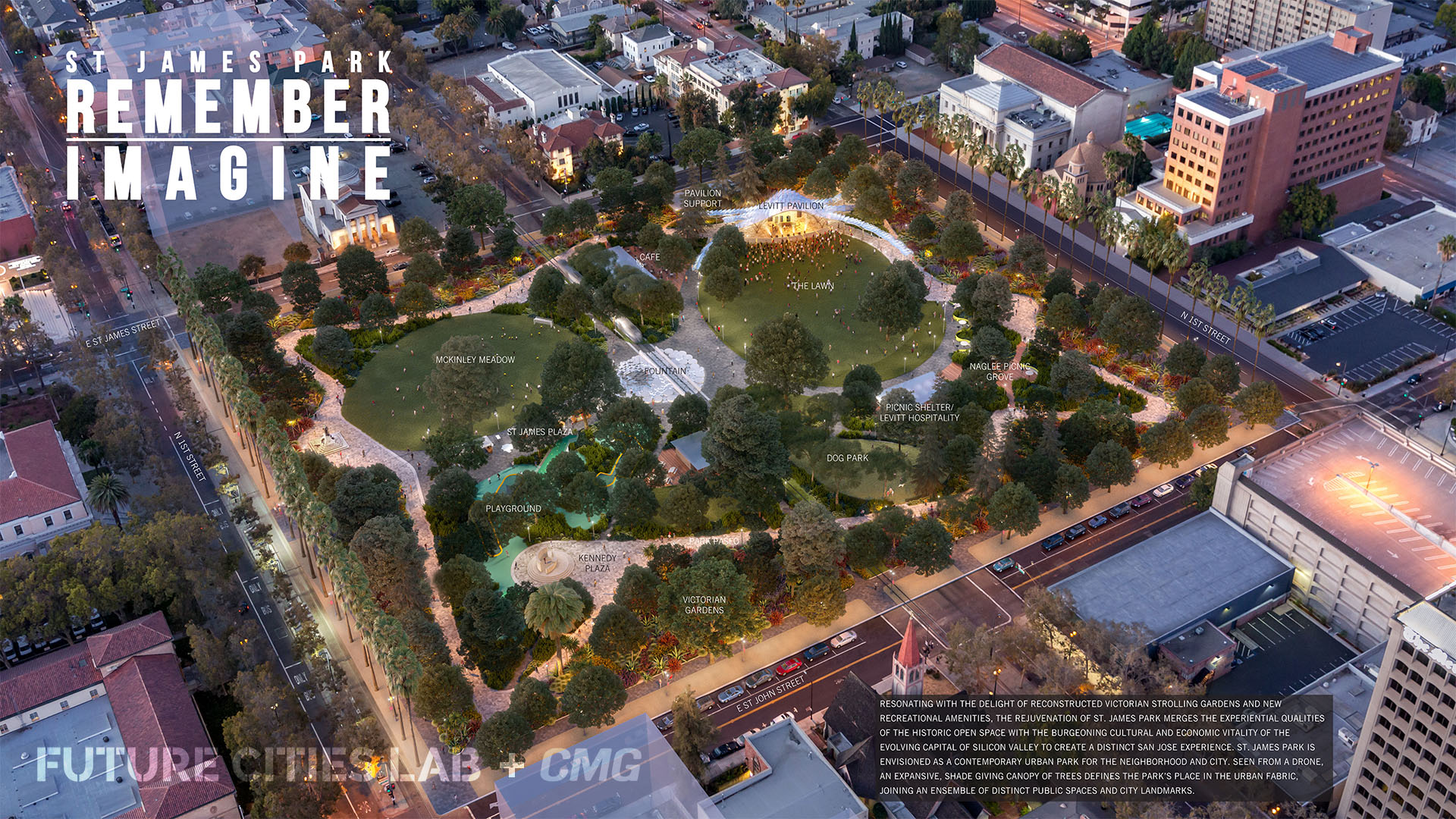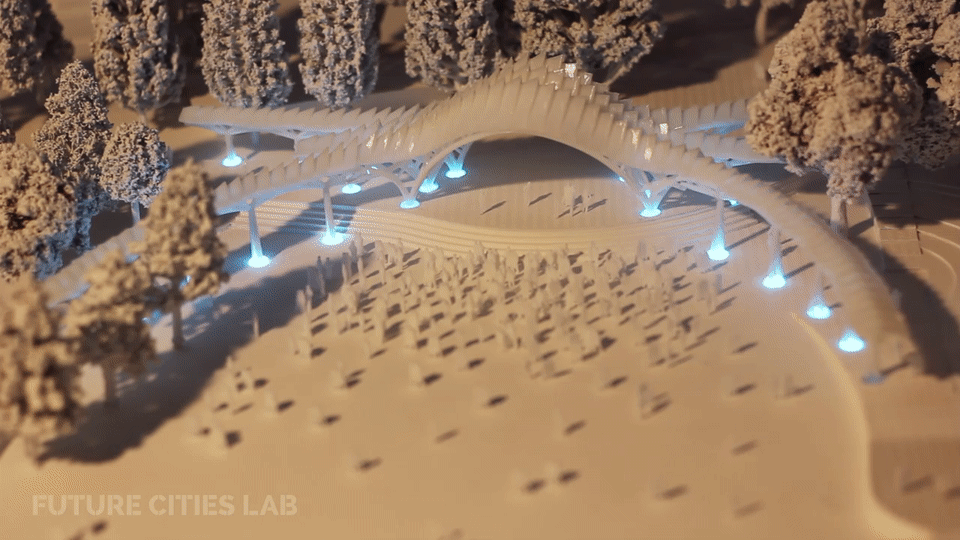 ST. JAMES PARK, SAN JOSE LEVITT PAVILION COMPETITION
It was playwright and poet Johann Wolfgang Von Goethe that said, "Music is liquid architecture; Architecture is frozen music." Our design for the San Jose Levitt Pavilion, supported by the Levitt Foundation and The Friends of Levitt San Jose, took its initial inspiration from music and performance. Three suspended structures flow together to form a dramatic central crescendo, then fade away into the surrounding urban forest. Dubbed the "Dragon Pavilion" by local residents due to its serpentine-like glowing form, the pavilion's suspended overlapping panels give the structures a sense of dynamism and buoyancy. In the evening these dramatic sculptural panels, set against a backdrop of tall trees and plantings, will create a light-filled icon for the park, neighborhood and city.
The pavilion fits seamlessly into the new St. James Park network of pathways and lawns. The shade canopies create an inviting place to stroll day and night. Shade canopies wrap around the lawn adjacent to the new park cafe. One of the driving concepts of the pavilion was to create an open structure that would be light-filled and transparent to allow the citizens to enjoy the shade canopies throughout the day as well. The pavilion would support programs such as an open air cinema at night, concerts, recitals and theatrical performances.
UPDATES
6/7/2018: Future Cities Lab + Arup + CMG + P&T have begun the Schematic Design phase - scheduled to be completed and presented to SJ City Council in Fall 2018. Stay tuned!
3/7/2017: Today the San Jose City Council voted unanimously to move forward with our competition entry!! The San Jose Mercury News article is here. Phase 1 of the estimated $41 million dollar project will prioritize the Levitt Pavilion proposal designed by Future Cities Lab, and landscape design by CMG Landscape Architects including new amenities like a large playground, redesigned fountain, dog park and integrated picnic area. The design also moves the light rail station now in the park south of St. John Street and closes North Second Street to car traffic.
CREDITS
Pavilion Design: Future Cities Lab - Jason Kelly Johnson & Nataly Gattegno
Team members: Ripon DeLeon, Alan Chiang, Jeff Maeshiro, Emily Saunders, Ji Ahn
Pavilion Structural Engineering Consultant: Arup (Jan-Peter Koppitz, Felix Weber)
Pavilion Lighting Consultant: Arup (Toby Lewis, Elizabeth Cooper)
Pavilion Acoustic and Theater Consultant: Arup (Shane Myrbeck)
Park Design: CMG Landscape Architecture (Willett Moss, Haley Waterson)
Historic Preservation Consultants and Park Amenities Design: Page & Turnbull (Jay Turnbull, Ruth Page, Greg Yanito)
Construction Management & Cost Estimation: Oppenheim | Lewis
Select Competition Phase Renderings: Steelblue
PRESS LINKS
San Jose St. James Park and Levitt Pavilion Competition Winners Announced, World Landscape Architecture, 03/15/17
How to remake San Jose's St. James Park, The Mercury News, Scott Herhold, 10/12/2016
St. James Park Redesign Finalists Picked, The Mercury News, Sal Pizarro, 08/19/2016
An outdoor music venue could revitalize St. James Park, The Mercury News, Ramona Girwagis, 01/14/2016
What A Levitt Pavilion Would Bring to San Jose, San Jose Inside, James P. Reber, 08/07/2014
Copyright © 2017, Future Cities Lab. All rights reserved.