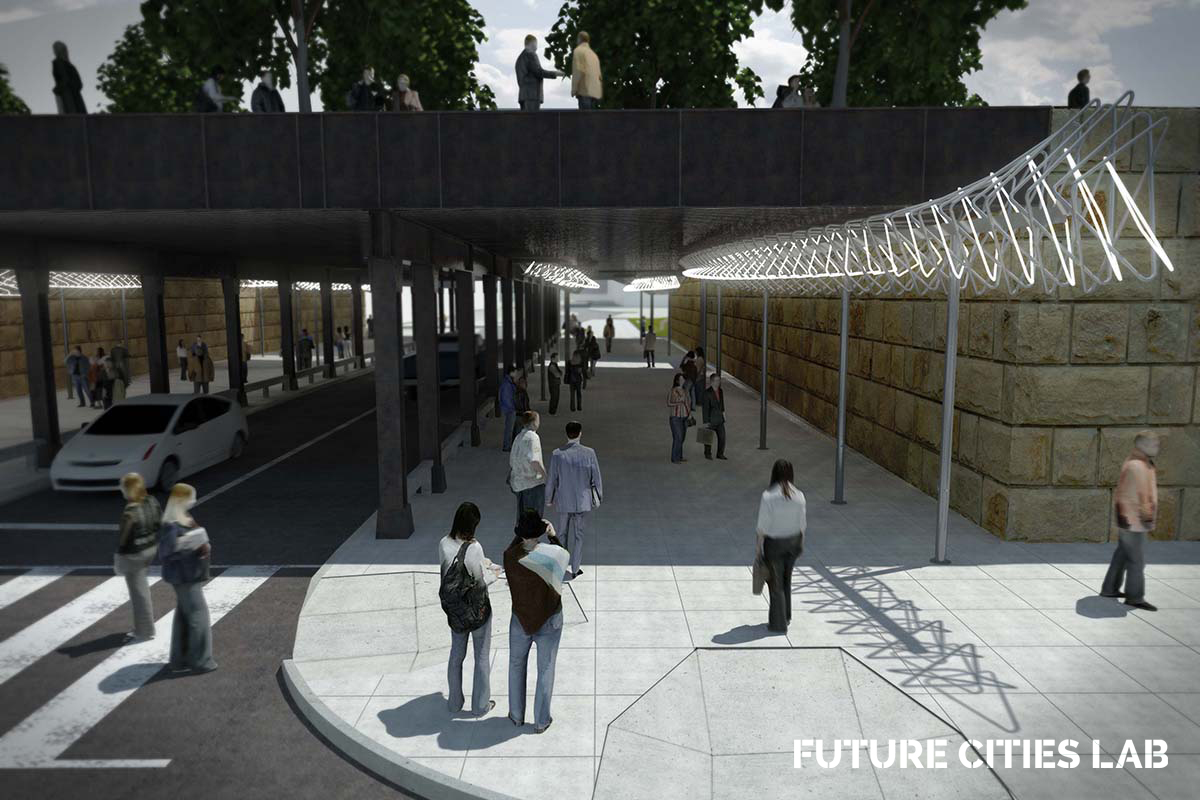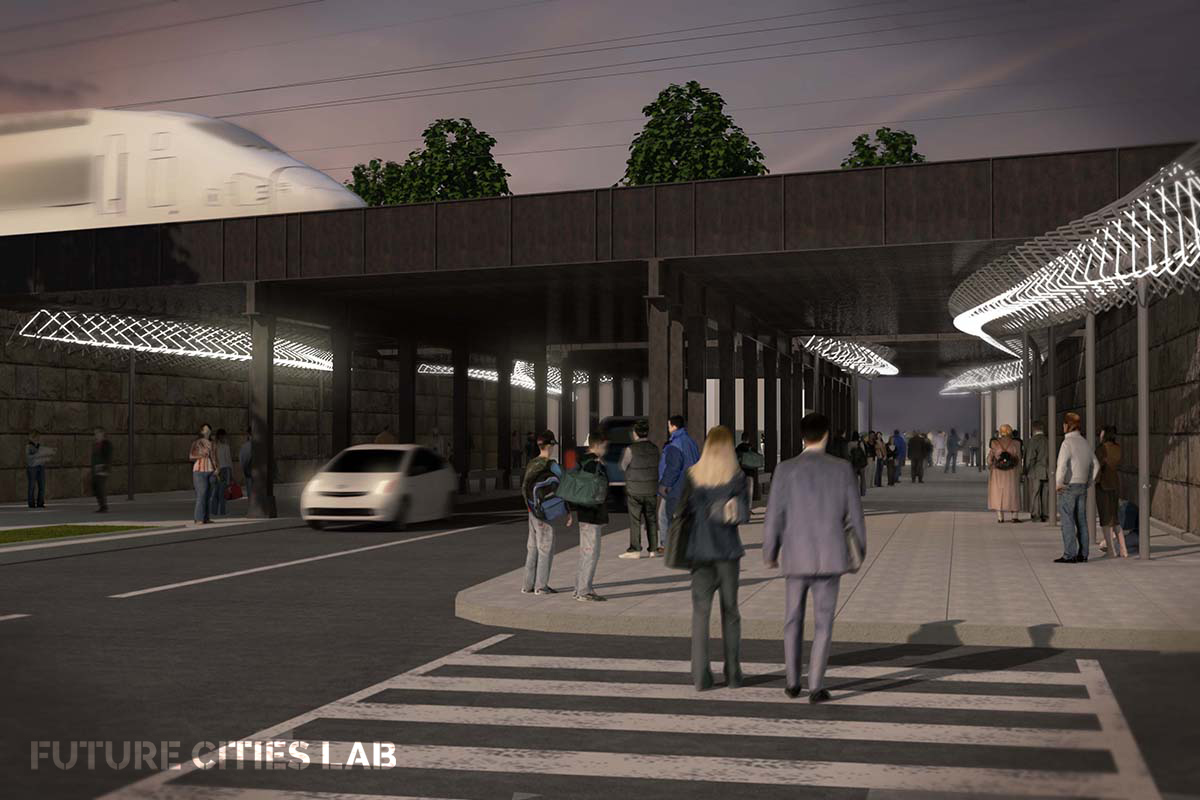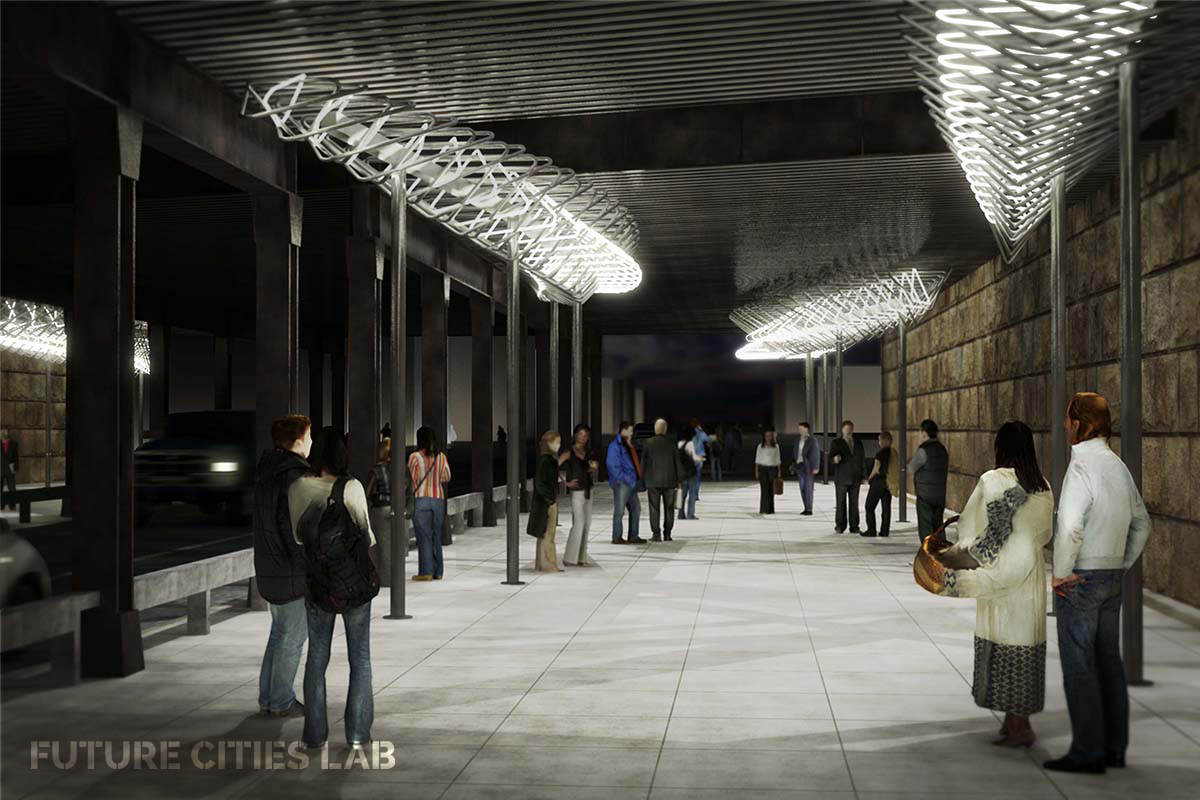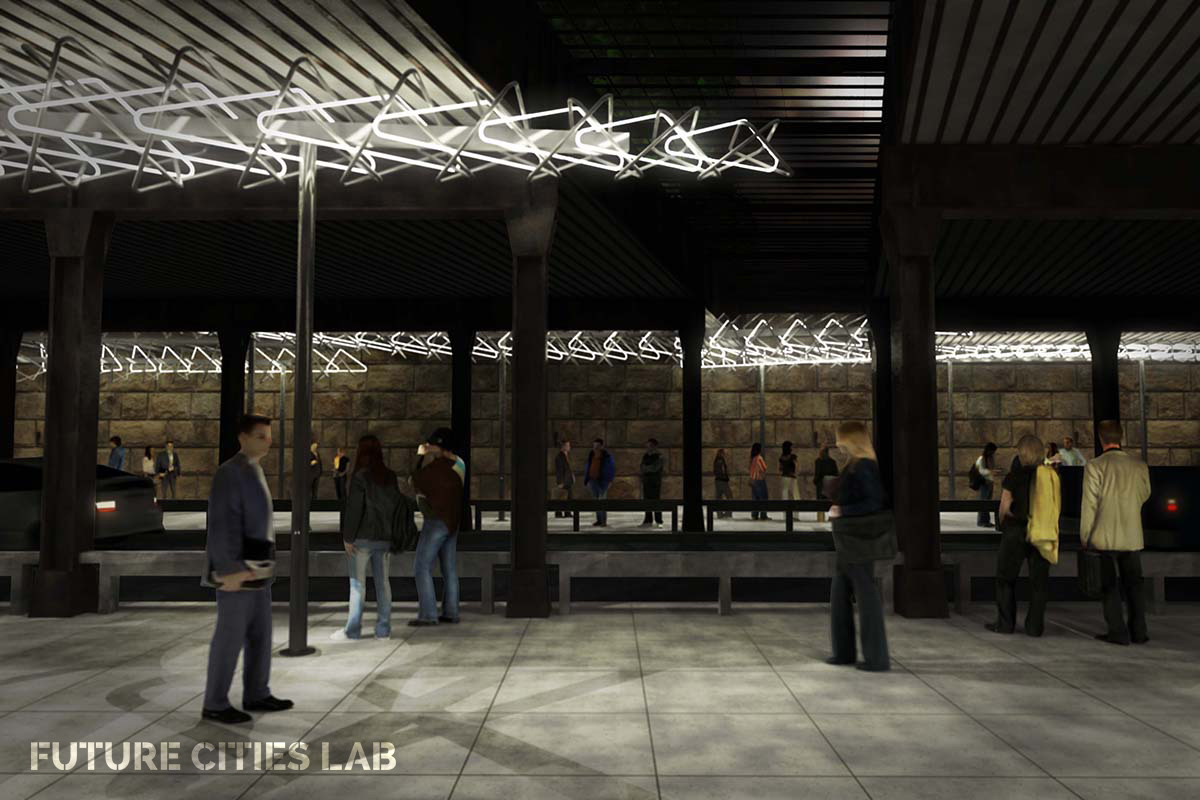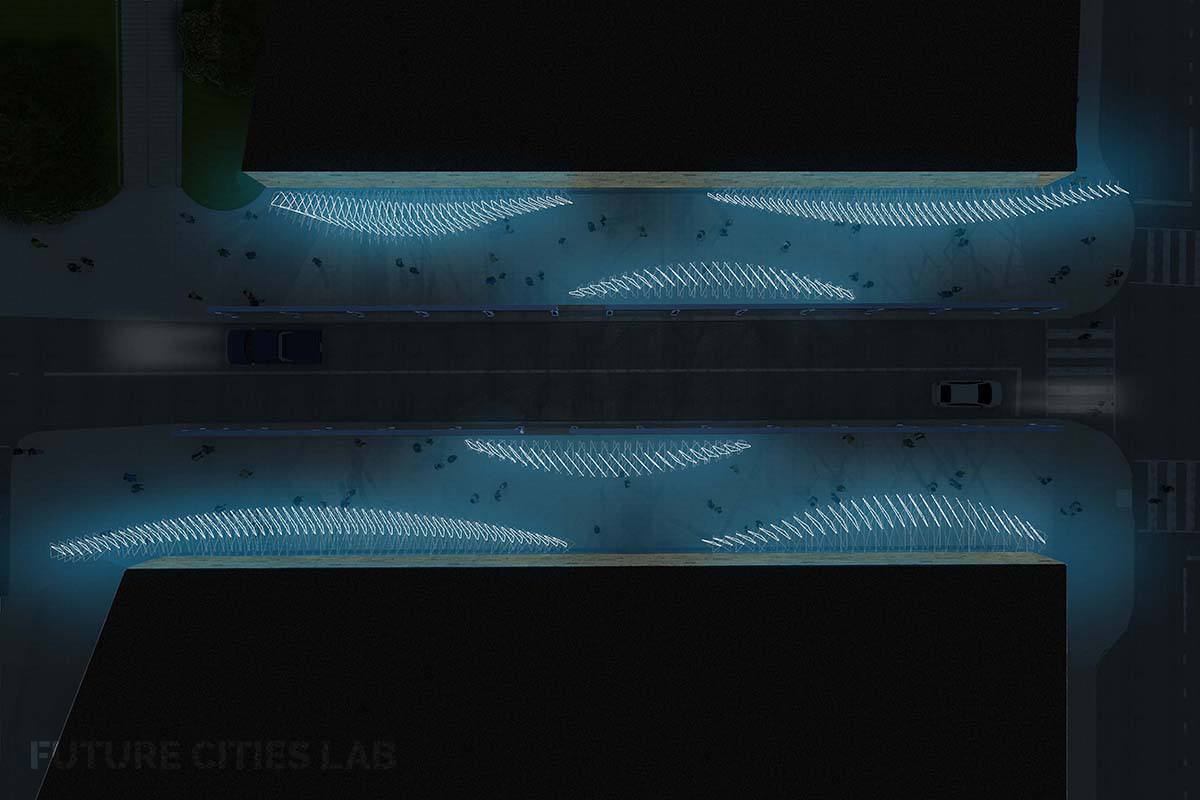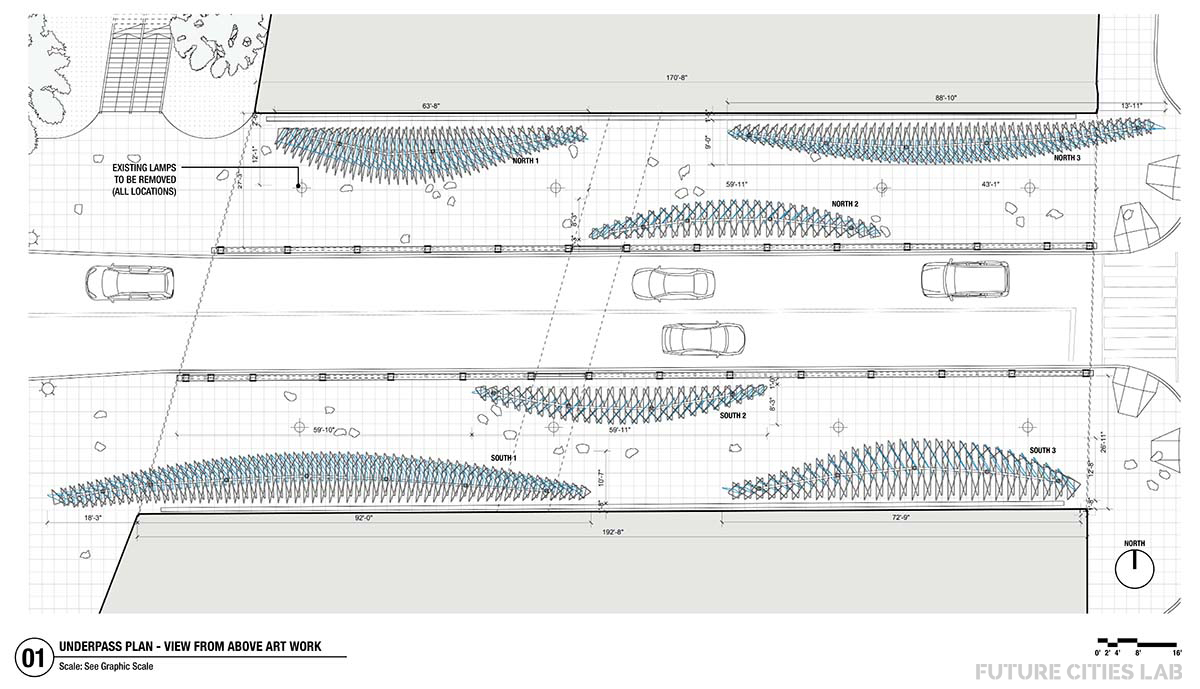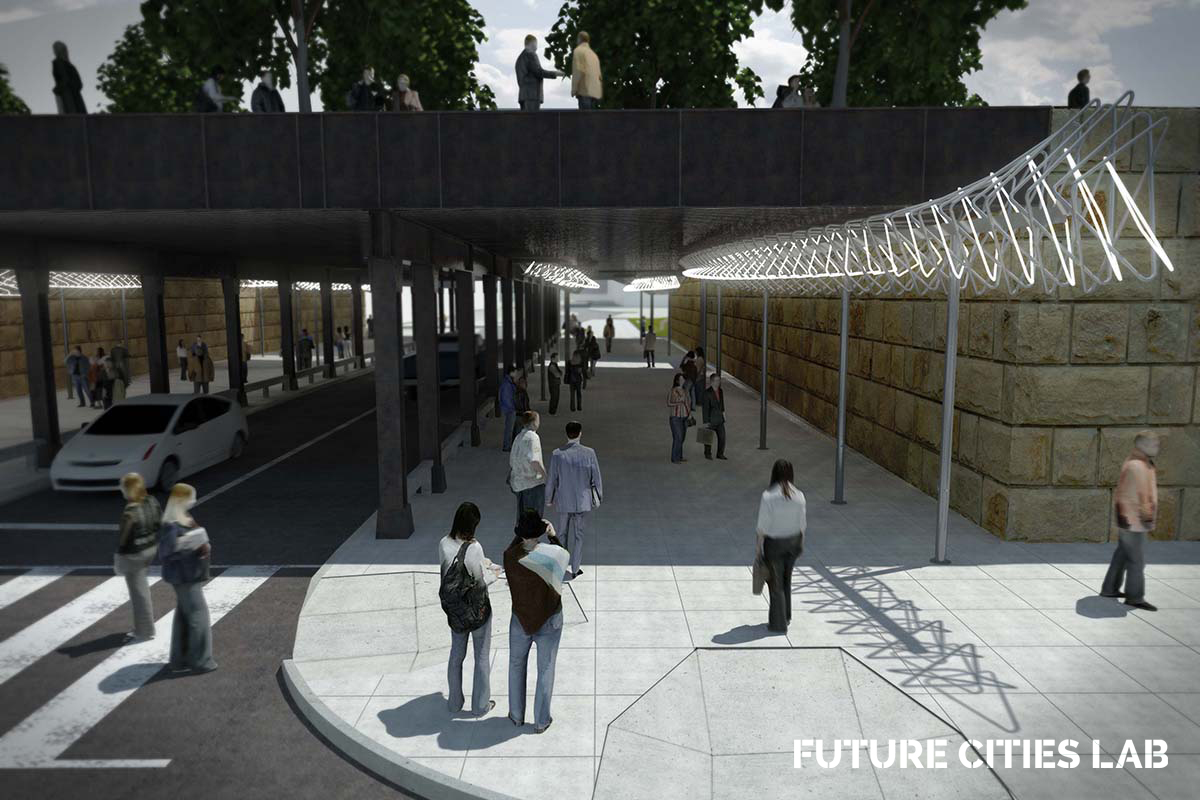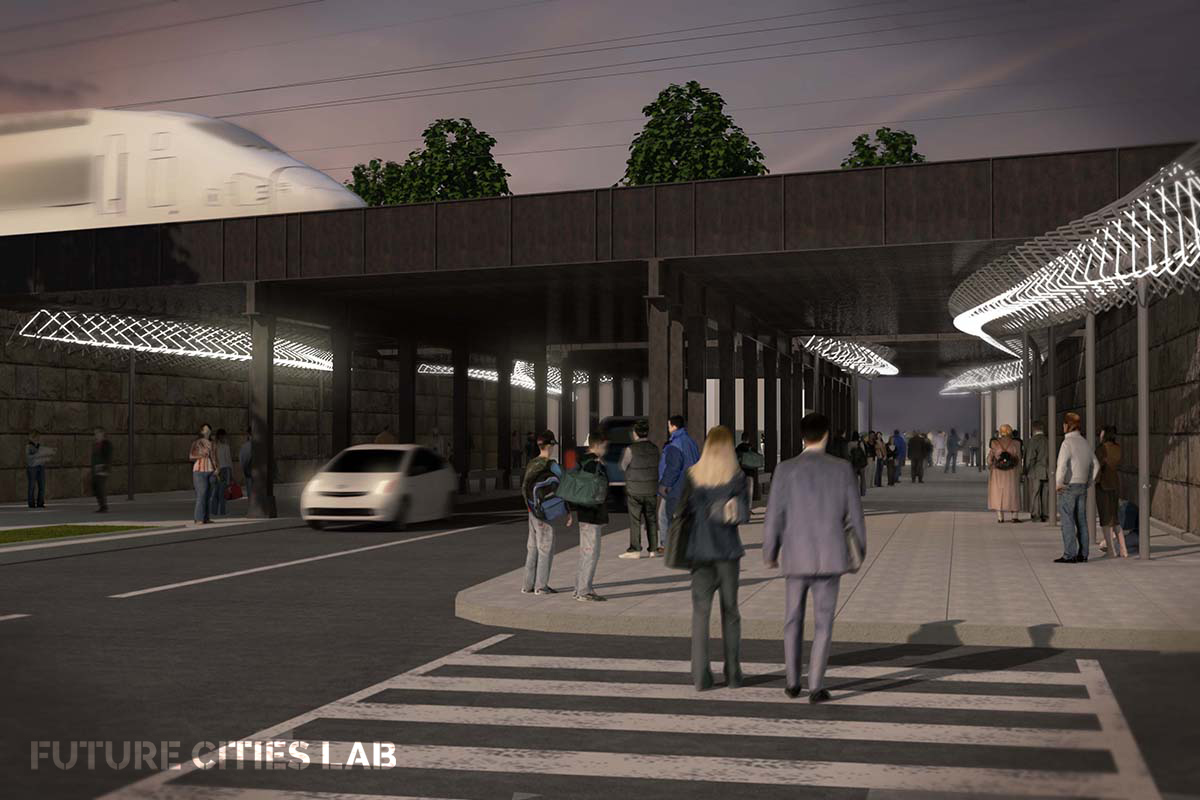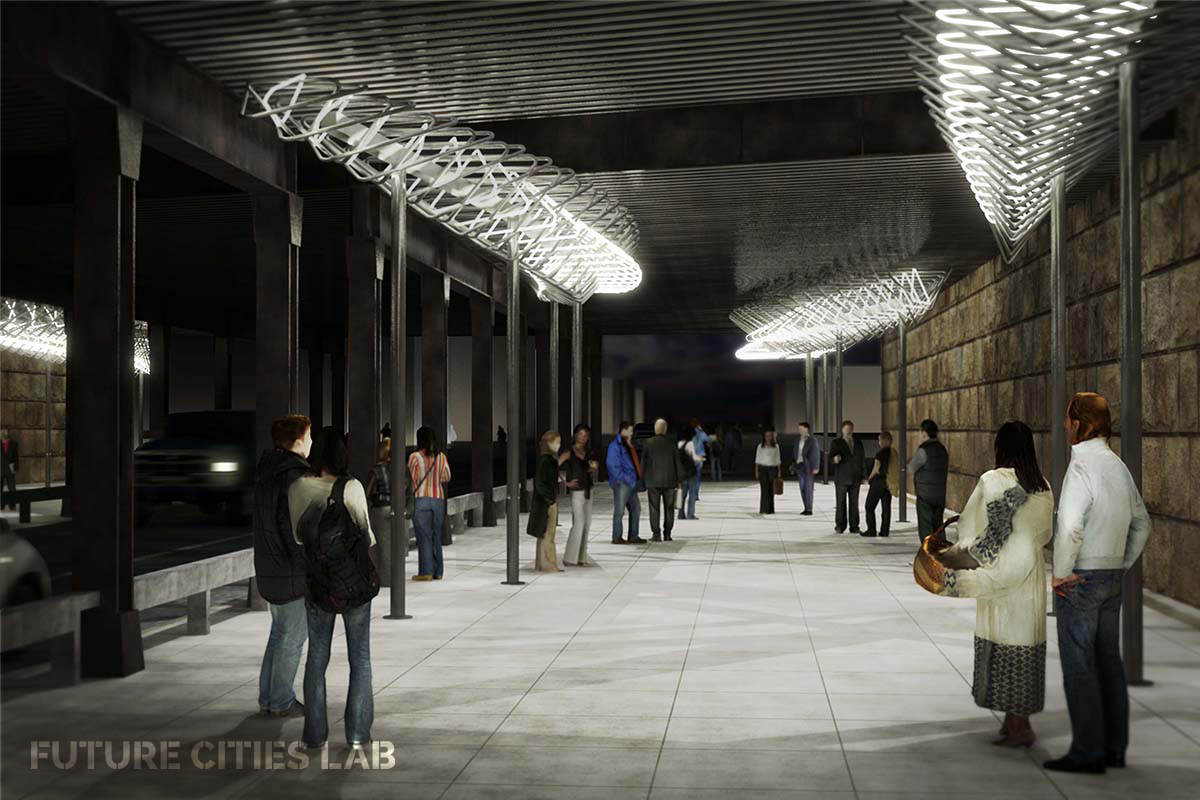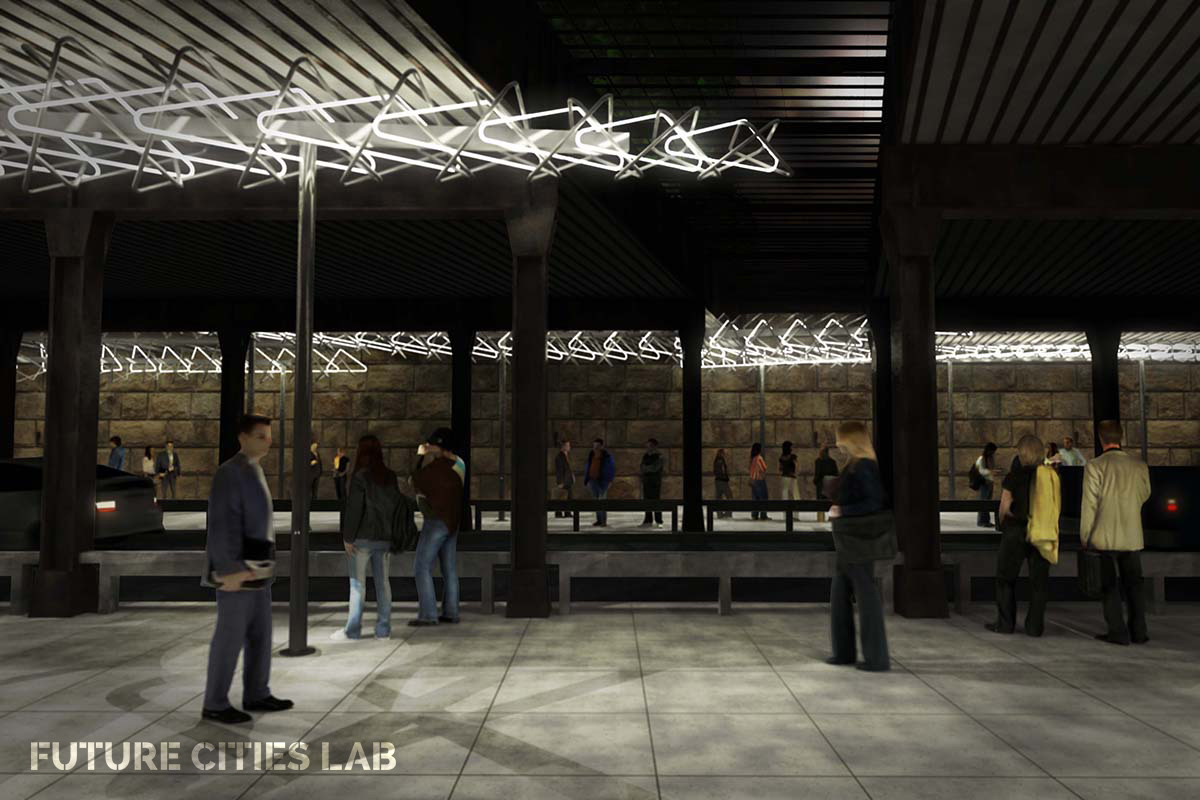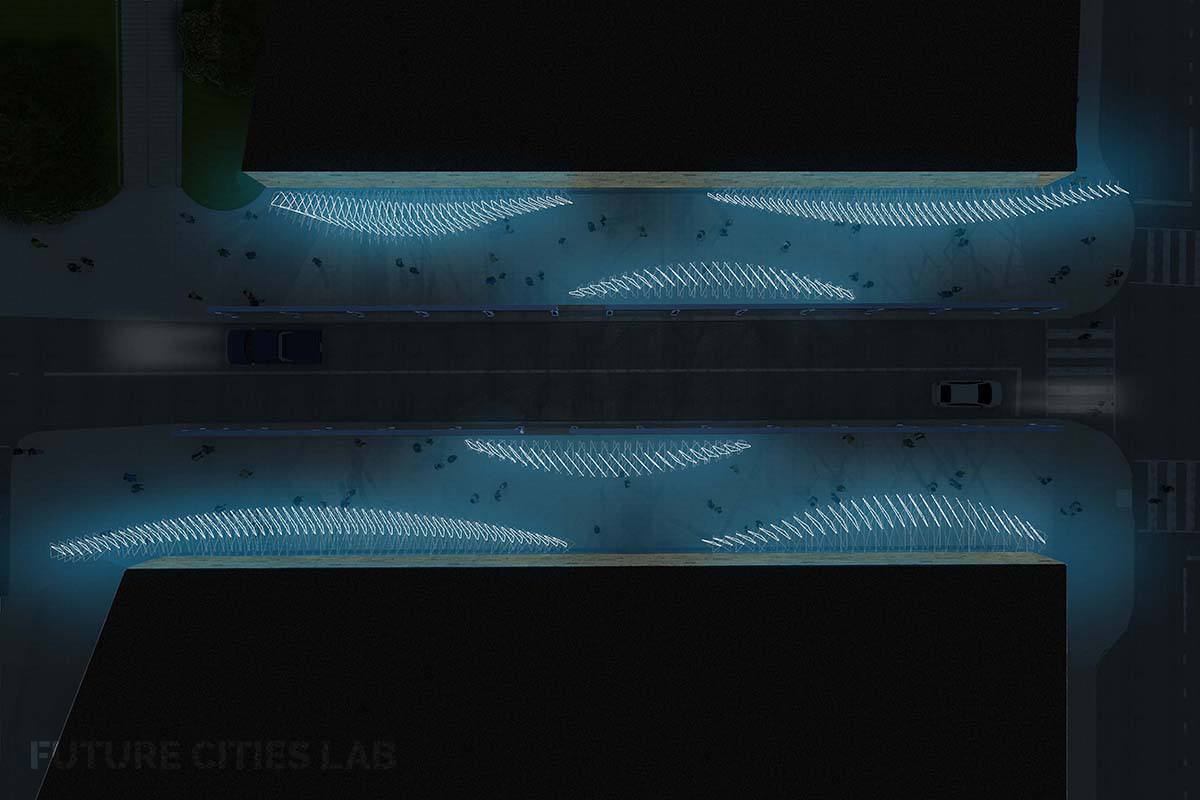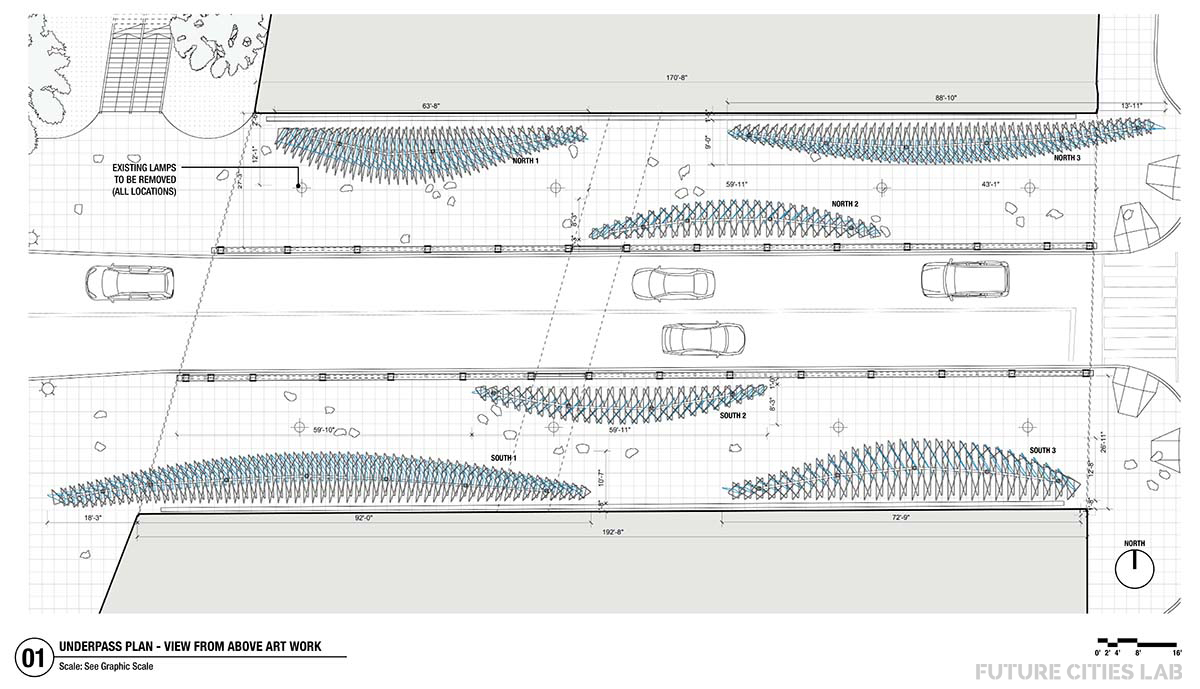 LIGHTweave
Can our urban environments become sentient participants in our daily lives? can these immersive spaces activate otherwise neglected voids?

Lightweave translates ambient sounds from the site into dynamic auroras of patterned light. Slowly changing lighting effects are activated by the noise and vibration of passing trains, cars and other sounds from the neighborhood. Lightweave animates the underpass with variable intensities of illumination and creates a meditative and interactive experience.

Typical sound events in the immediate area range from 50dB+ (passing automobiles in the tunnel) to 100dB+ (train horns). Lightweave translates these sound events into fluid wave patterns of light. Similar to dropping a single pebble into an undisturbed pond, waves of light slowly oscillate through the Lightweave. Multiple sounds will create dynamic visual overlaps. The quality and placement of lighting elements will enhance safety and comfort. Ambient light levels can also be increased during the evening and will enhance the overall ambiance of the area to ensure visibility of pedestrians by motorists.
UPDATES
3/9/2018: The stainless steel lattices have shipped to DC! Column and Beam fabrication is current;y underway with installation schedule to happen in April! Check out our Instagram feed for some images of the final testing phase in San Francisco.
11/2017: Here is a blog posting with an update on fabrication and some fun facts about the process.
04/2017: Check out Lightweave in VR experiment for SKYY Vodka x WIRED Make, Every Day Future Proof event. Event attendees were able to walk through Lightweave in virtual reality through an Oculus Rift, experiencing the artwork's interactive light and spatial effects.
04/2016: We prototyped some interfaces for Lightweave. Check out our blog posting here.
09/2015: After an international design competition (drawing over 250 competitors) Future Cities Lab has been awarded the commission to design and build "Lightweave" in Washington DC's NOMA neighborhood. On 13-14 July 2015 we presented the project to several community groups and stakeholders. On 17 Sept Jason presented the project to the U.S. Commission of Fine Arts, and subsequently received full approval from the commission on 24 Sept 2015. We are currently working with the NOMA Parks Foundation, Michael Vergason Landscape Architects, our contractor MC Dean, and other partners to complete the project by fall 2017.
04/2015: FCL's Proposal is currently a finalist entry in the NOMA Underpass Design Competition in Washington D.C.!
LOCATION: L-Street Underpass, between 1st and 2nd Streets, Washington, DC.

CREDITS
Design: Future Cities Lab, San Francisco - Jason Kelly Johnson and Nataly Gattegno
Team: Jason Kelly Johnson, Nataly Gattegno, Jeff Maeshiro, Joel Frank, Emily Saunders, Natalie Abbott, Carlos Sabogal, Laura Dell'Anno, Brian McKinney; Assistants during concept design: Ripon DeLeon, Fernando Amenedo, Ji Ahn, Colin Schupman
Fabrication: MACHINIC Digital Fabrication & Consulting, San Francisco
Collaborators: MC Dean (Electrical Engineer and GC); ENDRE Studio (Structural Engineer); Maramoja, NL (Electronics Integration).
Commissioned by: NoMa Parks Foundation
PRESS LINKS
Noise Responsive LED Lights Will Fill NoMa's L Street Underpass, Curbed DC, Michele Goldchain, 06/24/15
NOMA Parks Foundation Announces Second Underpass Art Park Finalist on L Street, NOMA Parks Foundation, 06/24/15
NoMa Underpass to Use Noise for Light Show, Hill Now, Jared Holt, 06/23/15
D.C.'s NoMa rail project finalist designs revealed, The Washington Post, Mark Jenkins, 10/15/14
Copyright © 2018, Future Cities Lab. All rights reserved.